JD's Smokehouse is on the menu as 3 Beers Down visited TheMESH.tv studios to pair beer and BBQ. During the beer and BBQ episode of The Low & Slow Barbecue Show, we meet Josh Elder, Matt Everley, and Luke Sears and get their advice for the best beer to pair with smoked chicken, pulled pork, and beef brisket.
While I believe my "surprise beer" wins the Best Beer Match with Everything award, listen to this podcast mash-up for a review of What's Up Bro from Lost Province Brewing Co., Saison de Lis from Perennial Artisan Ales, and Willettized from Lagunitas Brewing Company.
Get the Low & Slow-3 Beers Down opinion on the main meats from JD's Smokehouse and their best sides (spoiler alert: the brisket and jalapeño cheese grits are worth a drive to Rutherford College or Gamewell.)
Even if you don't enjoy beer and BBQ together, listen to the beer and BBQ episode to get a review of some of the Hickory Metro's best barbecue and take a walk down our guest's memory lane to B's Barbecue in Greenville, NC.
Keep reading for the lowdown on the beer and BBQ combinations recommended by 3 Beers Down.
Beer and BBQ?
If you've spent hours getting your meat and smoker ready to cook, you know when it is time to crack a cold beer, sit back and let the smoke do its thing.
Maybe you enjoy that Carolina craft beer at the END of a day spent serving barbecue to family and friends.
But a meal of BBQ with cold beer? Maybe …. if that's your thing.
"Personally, I don't want what I am drinking to interfere with what I am eating," Luke says, adding if he is eating a meal to appreciate the flavor, "like BBQ and Indian food – with those things I am drinking water."
Many of the best barbecue places don't offer alcohol on the menu. Still, if you want to enjoy low-and-slow smoked meat with cold craft beer, 3 Beers Down shares their recommendations.
Best Beer with BBQ Chicken
For smoked chicken, especially a meat + rub + sauce combination that is spicy or salty, a hazy IPA is the way to go.
"The citrusy flavors of the hazy IPA bring out the flavors of the chicken and the crispy vegetables," Josh says. "Citrusy-type foods or drinks will cut the spice away."
Lost Province's New England IPA, What's Up Bro, makes a great partner with chicken for those reasons and others.
"A lot of people may differ on the perfect beer for any food, but for me, this is it," Josh says of the 6.6% ABV IPA brewed in Boone, NC.
Smoked chicken is difficult to keep moist. The JD's take-out order was perfectly packed into a pound container of juiciness. JD's offers bulk menu pricing as well as a dine-in restaurant experience and take-out.
"With white meat, it is difficult for it not to dry out; kudos to JD's for moist, delicious smoked chicken," Luke says.
Best Beer and Pork BBQ Combination
Pork is a rich, savory meat, Luke points out, so "you need something that is light, something that is drinkable." And JD's pork melts in your mouth.
"So a Saison normally is a little lower in alcohol, a little tart, and a dry finish," he says during our podcast. "Especially with pork barbecue, that richness, a drier beer would pair well with it."
For your next pork BBQ and beer pairing, 3 Beers Down recommends Saison de Lis, a Belgian-style Saison from Perennial Artisan Ales. This beer, brewed with chamomile flowers, is especially light at 5% ABV.
"If you have a lingering mouth feel of beer with pork, that's not going to pair well," Luke says. "You want something with a dry finish, something that makes you want to have another bite of pork and another sip of beer, and just rinse and repeat. … I think that is a good day."
Matt and Luke both rate JD's pork over the chicken. The pork is especially good piled high on a bun with Eastern sauce and red slaw.
"You can taste the smoke in the pork more than in the chicken," Matt says. "But it is not overpowering."
Best Beer and Brisket Choice
JD's brisket is stop-the-show good. It brought us to the point in the podcast where I realized that eating barbecue and talking about barbecue at the same time … not easy. With a mouth full of the best brisket bark I've had since Texas – maybe better – it's hard to do more than chew and savor.
The proof is in the podcast: "That outer edge …" "Wow, that is good." "That's up there with anything I've had." "Brisket, the edge is where it is at."
At Matt's recommendation, we paired JD's brisket with "a sipper."
Lagunitas Brewing produces Willettized (2022), a coffee Imperial stout aged in rye oak barrels from Kentucky's Willett Distillery. Weighing in at 13.1% ABV, you probably don't want to drink several of these during a day of barbecue.
"This is the best barrel-aged beer you can get at a grocery store," Matt says. "It's a sipping beer that complements the brisket. It has a little bit of a bitter taste, so that tames down" what Josh calls the "cough syrup" hit of alcohol.
And if you take a bite of brisket while chewing the beer … it's not a terrible idea.
About the Barbecue, the Sauces, and the Sides
For our 3 Beers Down beer and BBQ review, I turned to a personal favorite within a "lunch-hour" drive from Hickory, JD's Smokehouse. A dinner package includes 1 pound of pork, 1 pint of baked beans, 1 pint of slaw, a sauce, and 4 buns. It feeds 3-4 easily.
In addition, our barbecue review included chicken and brisket, as well as three sauces, Eastern, Western, and Sweet Hot. Of course, I couldn't make the 19-minute drive on I-40 without getting sides: jalapeno grits, sweet potato crunch, and green bean casserole.
JD's menu includes much more, but this was a solid start for our review.
The JD's Smokehouse BBQ Sauces:
JD's offers a selection of sauces: Eastern, Western, sweet hot, and mustard. We skipped the mustard.
Eastern: Vinegar-based sauce that includes enough red hints of ketchup color to be closer to "Lexington-style dip" than the clearer stuff you find down east in Greenville and elsewhere in whole hog country. Mild spice.
Western: Thick, tangy sauce reminiscent of what you find in the West (of the U.S., more so than western North Carolina.) More sweet than spicy.
Sweet Hot: Vinegar-based and closer in clarity and spice-level to what you might find in Eastern Carolina whole hog barbecue joints.
JD's Smokehouse BBQ Sides
JD's fame for side dishes is almost as strong as it is for the meat. Rotating sides like hash brown casserole, loaded potato casserole, and mac n cheese complement barbecue joint standards like fried okra, baked beans, slaw (red and white), fries, potato salad, green bean casserole, banana pudding, and mud pudding.
The jalapeno cheese grits and sweet potato crunch are wonderful in an order-every-time-you-go-there kind of way. Brunswick stew, also on the menu, earns the smokehouse its official "Carolina BBQ Joint" license.
From our podcast review:
Jalapeno cheese grits: Thick and creamy, with just a enough spiciness to make it lively.
Sweet potato crunch: Candied sweet potatoes covered in a crunchy, nutty topping, this Thanksgiving delight belongs on your plate every day. Truly these are more like a dessert than a side.
Red slaw: Cabbage marinated in vinegar-based dressing. This stuff is legit alone – but even better on chopped pork.
(The grits and the sweet potatoes got so much attention, the baked beans and green bean casserole were largely ignored.)
Green bean casserole: Green beans were fresh and crisp. Otherwise, pretty standard.
Baked beans: Good, standard fare. Did I mention the cheese grits and sweet potatoes? While not on our tasting tour, the banana pudding is worth consideration, too.
Of the sides we reviewed, we all agreed that cheese grits and sweet potatoes were the best. I may have been the only one to eat the other sides, but I stand by the group's opinion.
There's always a debate over Eastern vs. Western sauce. Some people appreciate good Carolina pork barbecue and a vinegar-based sauce with varying levels of spice and/or ketchup. Others prefer a thick, goopy mess on their meat. Josh was the lone vote for Western style.
The Beer and BBQ Small Print Details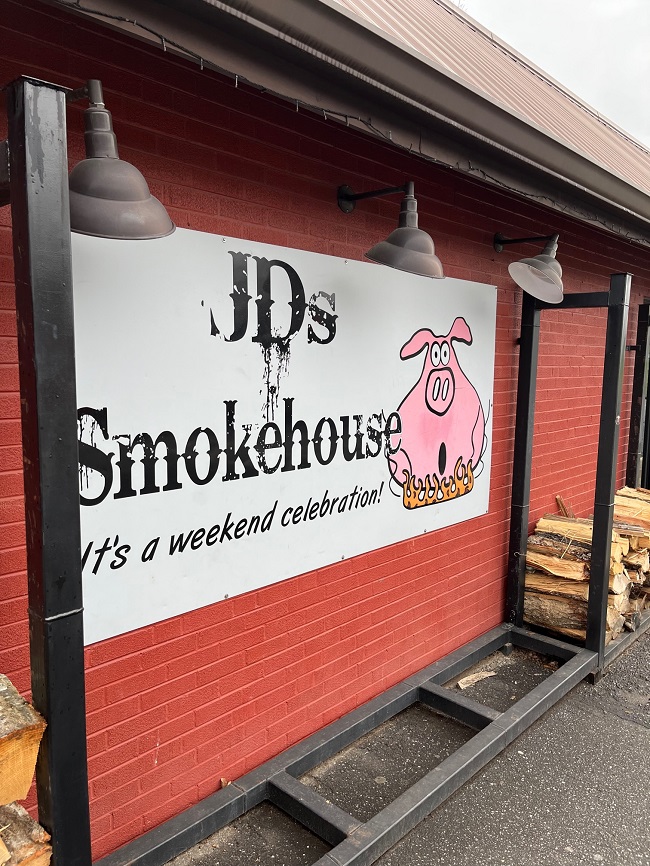 Here are a few more specifics about JD's Smokehouse and the beer from our BBQ pairings.
JD's Smokehouse is a "weekend celebration" with locations in Rutherford College (Burke County) and Gamewell (Caldwell County) open Thursday through Saturday, 11 a.m. – 9 p.m. JD's has been named No. 1 BBQ by Carolina Country Magazine and Strange Carolinas. Read more about the family-owned barbecue business in Our State's recent feature.
Beer and Barbecue Pairings:
Chicken: What's Up, Bro, New England IPA, Lost Province Brewing Company, Boone, NC. ABV: 6.6% IBU: 24
Pork: Saison de Lis, farmhouse Saison, Perennial Artisan Ales, St. Louis, MO. ABV: 5% IBU: 20
Beef: Willettized (2022), Imperial coffee stout, Lagunitas Brewing, Petaluma, CA. ABV: 13.1% IBU: 60
3 Beers Down:
3 Beers Down is North Carolina's go-to podcast for craft beer culture. Based in Hickory, NC, 3 Beers Down is made up of Josh Elder, Matt Everley, and Luke Sears. Find 3 Beers Down on iTunes or listen on the website.