Like a fierce spirit of independence, food traditions run deep in the Carolinas. From barbecue smoked low and slow to Benne Wafers planting a historic place along the coast in the 1700s, the nation's most familiar flavors grow in places with fertile food heritage.
To celebrate that heritage and U.S. Independence Day, The Low & Slow Barbecue Show welcomed Hanna Raskin. She is editor and publisher of The Food Section, a digital magazine covering food and drink across the American South.
And because Hanna is absolutely an independent voice in food journalism – as evidenced by a 2023 James Beard Foundation Award and a 2015 Pulitzer Prize for public service – you know Hanna is preaching gospel truths, whether it is about the best I-95 exits for food or the right recipe for Benne Wafers.
Keep reading for that Benne Wafer recipe. Hanna shared it from the "Matriarch of Edisto Island," as well as a bit of history behind the cookies you see every time you visit Charleston, S.C.
Hear our complete Independence Day barbecue conversation in this episode of the Low & Slow Barbecue Show. You'll learn more about Hanna's food journalism, her perspectives on barbecue in the Carolinas, and why she might bring Benne Wafers as a light, crunchy finish for your Fourth of July ribs picnic.
What is a Benne Wafer?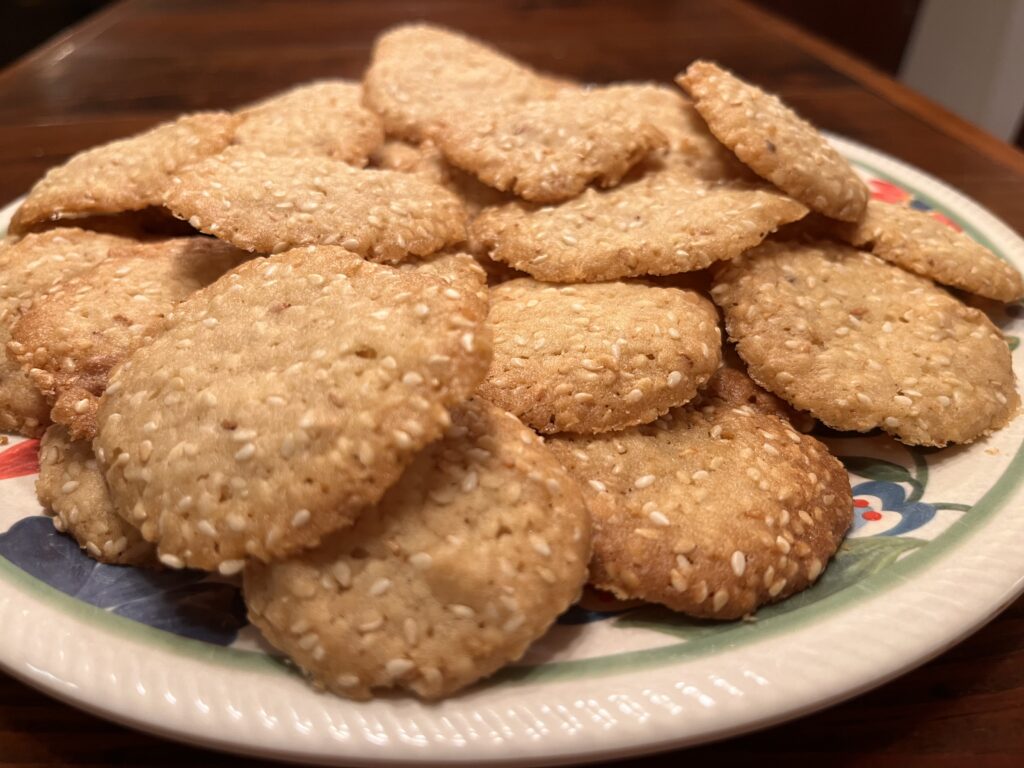 The Benne Wafer is a long-time Lowcountry tradition.
"It tracks back directly to West Africa. Benne is a plant that came with enslaved laborers," Hanna says during our conversation. "It is important that people eat that in Charleston. It really is part of our story."
Benne (pronounced correctly "bennie") is a West African variety of seed like a sesame, the seeds you often see on your hamburger buns. The seeds were originally brought to Charleston in the 1700s and ultimately cultivated for cooking oil, though it never unseated olive oil for popularity in the mid-1700s South. Still, the seed became an essential part of Lowcountry and Gullah cooking.
"Charleston is becoming more cosmopolitan, which is fantastic. We have people from all over the country, so many global influences that we didn't have before," Hanna says. "Some of those local traditions are threatened to be lost."
Hanna's Choice of Benne Wafer Recipes
Hanna's avenue for food journalism doesn't include recipes or home cooking. As a busy food critic, there's not always time or opportunity to prepare her own food. You can't review restaurants if you are eating at home.
"I don't think I've ever made the same dish twice," she says,
An invitation to a potluck in Winston-Salem allowed her to celebrate the Lowcountry food culture she's covered for over a decade.
"[Emily Meggett] had passed that week … I thought that it might be nice to bring something from Charleston."
In 2022, Emily Meggett published "Gullah Geechee Home Cooking: Recipes from The Matriarch of Edisto Island." Almost a year later, on April 21, 2023, she died at age 90. The native of South Carolina's Sea Islands left behind a record of Gullah Geechee life and 123 recipes, including one for Benne Wafers.
"My Benne cookies come from Mama, and she learned how to make them from generations before her," Meggett writes in her cookbook. "Thin and crisp, these cookies should be like wafers; you don't want them to rise."
The cookies were a hit for Hanna and her audience at the Winston-Salem potluck. Different than the Benne Wafers you might find at the Charleston airport, these treats are crispy, with a nutty quality, Hanna says.
"They were so easy to make. They looked pretty on the plate, and people loved them," she says. "What was really neat was that Ms. Emily was a matriarch of her community. There were several of the older guests at this potluck who said, 'This is how my mother made them.'"
Stories like that are part of the reason Hanna says she started The Food Section.
What is The Food Section?
The Food Section offers it's subscribing audience a mix of restaurant reviews, investigative pieces, feature stories, and Q&A – "all the things you like to find in a magazine that is entertaining and informative." Subscribers get a feature article every Monday and a regular rotation of other food-centric content on periodic Fridays.
Hanna launched The Food Section with a Substack local grant in September 2021. The mission: expand her food journalism lens outside the Charleston bubble.
"During the pandemic, it was clear to me that so many people here were relying on me for information," she says. "It occurred to me that with so few food writers, so few working critics, there are people in places who had nobody to call" with safety concerns or questions about open restaurants.
"Food writing, I realized, was so important it shouldn't be limited to just one city," she continues. "So the chance to bring that to the whole region was pretty exciting."
This year, Hanna's publication has won acclaim. The Food Section's exit-by-exit eating guide for I-95 received the James Beard Foundation Award for Dining and Travel. The Arthur L. Carter Journalism Institute at NYU named The Food Section the Best Solo Newsletter in its 2023 American Journalism Online Awards.
"Hanna Raskin's 'The Food Section' is an excellent example of the kind of in-depth culture reporting disappearing from mainstream publications," writes AJO Award Judge Jackie Bryant, managing editor of San Diego Magazine. "Raskin treats local subjects, sources, and storylines with reverence and an intellectual curiosity typically reserved for more hard news beats in other local markets, proving that food reporting need not be fluffy."
For Hanna, the work also fulfills a biological need.
"We spend so much time and money on what we eat; you want to be able to derive as much from it as you possibly can. If you understand the stories behind that, it enhances the experience," Hanna says. "We are biologically going to eat three times a day. This is an opportunity to make this a more worthwhile and meaningful experience."
Subscribe to The Food Section here. A basic subscription is $49 per year.
Benne Wafer Recipe
Hanna shared the following recipe for Benne Wafers from the book Gullah Geechee Home Cooking: Recipes from The Matriarch of Edisto Island by Emily Meggett. This recipe makes 8-10 servings.
Ingredients

1 tablespoon margarine or butter, or more as needed (butter can be used to toast the benne seeds, but it burns more easily than margarine)

1 cup benne seeds or sesame seeds

1 cup sifted flour

½ teaspoon baking soda

½ teaspoon salt

½ cup unsalted butter at room temperature

½ cup sugar

¼ cup packed light brown sugar

1 large egg, beaten

1 teaspoon vanilla extract
Step 1
Preheat the oven to 350 degrees. Grease two cookie sheets.
Step 2
Melt 1 tablespoon margarine in a cast-iron skillet over medium heat and add the benne seeds, stirring to coat them. Add more margarine if needed. Toast the seeds, stirring frequently, until fragrant and darkened a shade. Take care not to burn the seeds. Scrape onto a plate and let cool completely.
Step 3
Sift the flour, baking soda, and salt together in a medium bowl.
Step 4
In a large bowl, cream together the ½ cup (1 stick) butter and the sugars until well combined and fluffy. Add the egg and beat well. Add the cooled toasted benne seeds and the vanilla. Stir in the flour mixture.
Step 5
Drop rounded teaspoonfuls of the cookie dough at least 2½ inches apart on one prepared cookie sheet. Bake for 8 to 10 minutes maximum, until golden brown around the edges. Remove the wafers from the cookie sheet immediately and place them on waxed paper to cool. Repeat with the remaining dough on the second cookie sheet, reusing the first sheet when it's cooled.