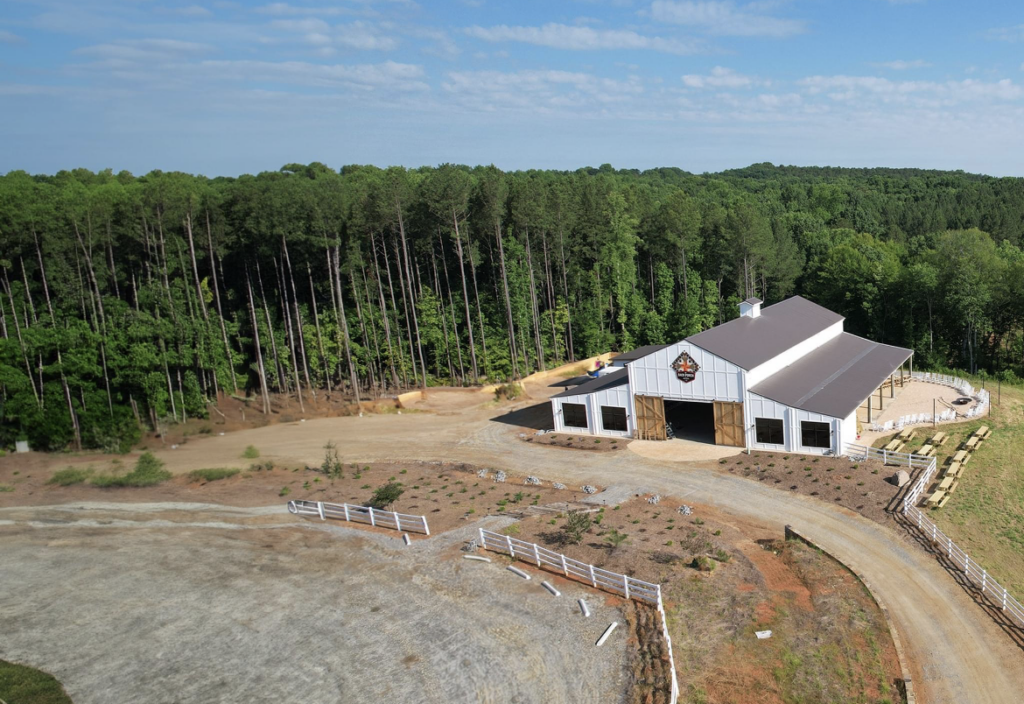 Destinations for barbecue are as diverse as the meat menus that span this land of low and slow. From cinder block shacks with smokestacks to sparkling new Taj Mahals of big-city barbecue, there's a place for every taste.
Just like Bohemian Cattle Company, which fits the bill for barbecue – and a whole lot more that meets the diverse interests of a growing population at the northwestern edge of Charlotte's Metro.
In this episode of The Low and Slow Barbecue Show, learn more about Bohemian Cattle Company, a family-owned farm and gathering place in Sherrills Ford.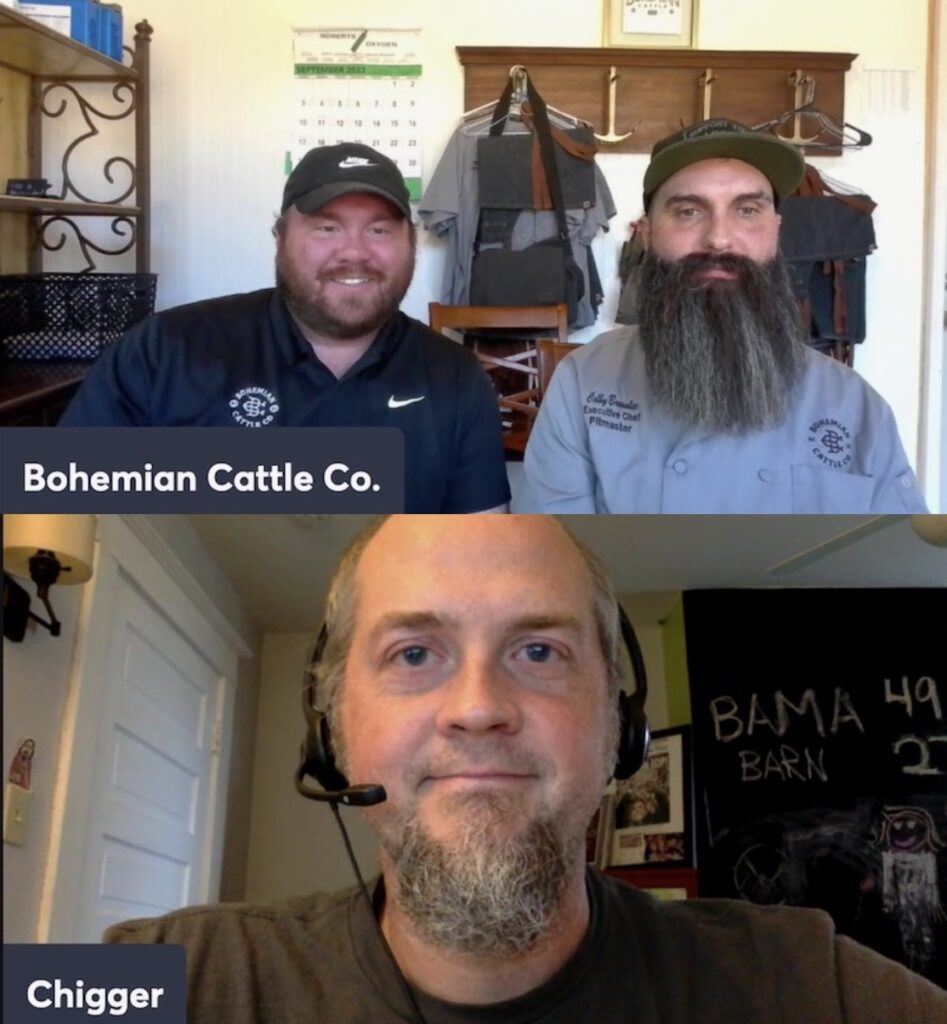 We talk to executive chef and head pitmaster Colby Brownlee and find out about his diverse barbecue experience. Bohemian's Brand Manager Bradley Bonning gives us all the details about the property that includes hiking and biking trails, a disc golf course, and maybe even a Sasquatch or two if you look closely.
Keep reading for more details about Bohemian Cattle Company. We also share Colby's special recipes for "Sasquatch" Ancho-Chile Coffee Rub and Sweet Apple Zest Vinegar Sauce below.
What is Bohemian Cattle Company?
Update 9/30: Bohemian Cattle Company is closed. Citing a conflict with health inspectors, Cameraon Cane announced the news on Instagram.

"Our farm was more than just a business; it was a labor of love, a sanctuary of growth, and a testament to the enduring spirit of community," management said on Facebook.
Before it closed …
Bohemian Cattle Company offers the Charlotte region a new agritourism getaway for barbecue, beer, and outdoor fun. The business is open weekend hours, Friday-Saturday 11 a.m. – 10 p.m. and Sunday 11 a.m. – 7 p.m.
Bohemian Cattle Company promises plenty of adventure in taste and activities, combining:
A pasture-to-plate cattle ranch and restaurant.
A pitmaster with diverse flame-fired experience.
Limitless possibilities of open acreage.
Opened in August 2023, Bohemian Cattle Company is the brainchild of owners Cameron and Sheila Cane. In addition to a working farm, the property features the Back Porch Restaurant, Bar, Creamery, butcher shop, and event space. Download the Bohemian Cattle Company menu.
Special events occur throughout the year, and permanently promoted activities around the site include:
An 18-hole disc golf course.
Catch-and-release-fishing.
Hiking and biking trails.
Gold panning.
Activity field.
Plans for the property include a campground. Want to know more? Here's the Bohemian Cattle Company FAQ.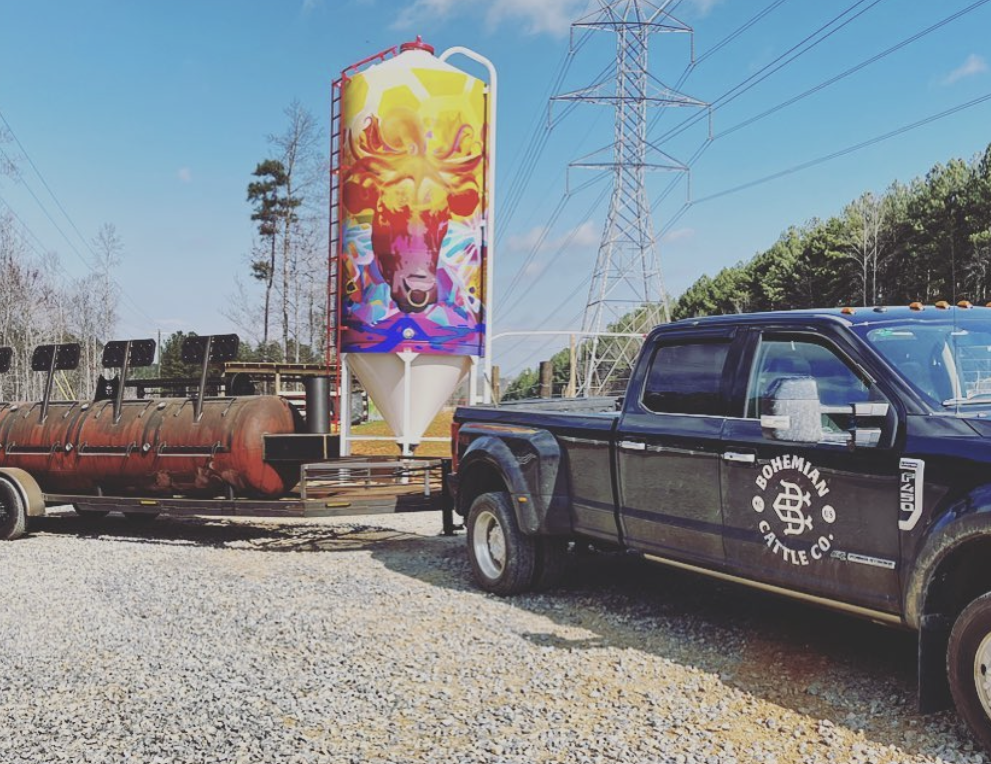 "Sasquatch" Ancho-Chile Coffee Rub
Ingredients:

1/2 cup ground coffee

1/4 cup Ancho chile powder

1/4 cup brown sugar

1/4 cup smoked paprika

1/4 cup garlic powder

1/4 cup onion powder

1/2 cup coarse black pepper

1/4 cup kosher salt (to make up 33% of total volume)

1 tablespoon coriander powder

1 teaspoon chili powder

1/2 teaspoon cayenne

"This is our rub for brisket, pork shoulder and our wing rub, which we use 1 part to 2 parts of our Chicken rub," Colby says.
Sweet Apple Zest Vinegar Sauce
Ingredients:

2 cups apple cider vinegar

1/2 cup applesauce

2 tablespoons dark brown sugar

2 tablespoons honey

1 tablespoon Tomato-based BBQ sauce

1 tablespoon Texas Pete's

1 tablespoon ginger powder

1 teaspoon Aleppo Pepper flakes or red pepper flakes

1 teaspoon ground black pepper

1 teaspoon kosher salt

1. In a saucepan, combine the apple cider vinegar, applesauce, dark brown sugar, honey, tomato-based BBQ sauce, and Texas Pete's.

2. Stir well to combine all the liquid and sauce-based ingredients.

3. In a separate bowl, mix the ginger powder, Aleppo crushed chili or red pepper flakes, ground black pepper, and kosher salt.

4. Gradually add the dry ingredient mixture to the saucepan with the liquid ingredients, stirring continuously.

5. Place the saucepan over medium heat and bring the mixture to a simmer.

6. Reduce the heat to low and let the sauce simmer for about 10-15 minutes, stirring occasionally, until it thickens and the flavors meld together.

7. Once the Sweet Apple Zest Vinegar Sauce has reached your desired consistency and flavor, remove it from the heat and let it cool slightly.