What do you get when you mix Eastern Carolina barbecue heritage, COVID lockdown, and a house full of Weiner dogs? We find out on The Low and Slow Barbecue Show as Doxie Guy BBQ introduces us to his barbecue sauce business. The Doxie Guy himself talks about the source of his sauce inspiration, his barbecue heritage, and his advice for business and barbecue.
Listen to the episode here, and you will also learn about Doxie Guy's favorite corn pudding recipe from his grandmother. Details for the Doxie Guy BBQ take on the corn pudding recipe are below.
Keep reading to learn more about the Doxie Guy BBQ business and the pitmaster entrepreneur who is wrangling dachshunds behind the scenes (5 at the time of our podcast!).
What is Doxie Guy BBQ?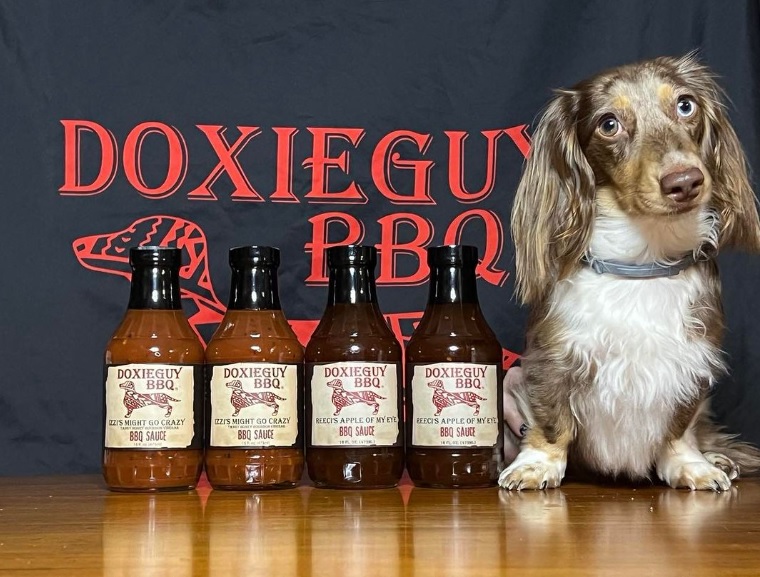 "I blame it on the pandemic," Doxie Guy says. "I got bored. I was sitting at home, and I thought I gotta get busy, 'cause if I don't get busy I'm going to get in trouble."
With his full-time job scaled back 60% during COVID, Scott reconsidered a hobby as an income source.
"I had been making it for years as a "moonshiner" … under the table to my buddies," he says. "I had heard for years you need to bottle this stuff.
"So I started reading during the lockdown, trying to figure out what does it take to put a product into a human being's body?"
Not to mention getting that product mass-produced, bottled, and on store shelves.
So far, the barbecue sauce path hasn't been easy, but during 3 years in business, Doxie Guy BBQ has sold 12,000 gallons of sauce in 16-ounce bottles.
"We sell in about 30+ small stores. Ace Hardware, butcher markets, produce places – more boutique stores. That's where we shine," Scott says. "We don't sit on the shelf next to Sweet Baby Ray's. It's a different caliber of product – not corn syrup."
Doxie Guy BBQ Sauces
Doxie Guy BBQ sauces hold true to North Carolina barbecue roots. Scott's upbringing among strong Eastern Carolina influences combined with a life spent in the western part of the state. Add a healthy dose of work around the catering business – Scott was a catering chef – and Doxie Guy BBQ sauce is wholly unique.
Doxie Guy BBQ is part of the "Got to Be NC" program through the North Carolina Department of Agriculture & Consumer Services. Many of the barbecue sauce processes and supplies – including locally sourced honey! – are products of North Carolina.
Both Doxie Guy BBQ sauces are named in honor of Scott's dachshunds. Reeci is the sweetest of all the Doxie Guy dogs. Izzy, on the other hand, is a little high-strung. Both sauces are finishing sauces, not marinades.
"Reeci's is a sweet barbecue sauce, and Reecie is a sweet dog," Scott says. "Izzy is always nervous and crazy acting."
Reeci's Apple of My Eye BBQ Sauce
When it comes to barbecue sauce and rubs, you've probably heard this story before.
"Mother has a sauce recipe, and it is something that she has never written down," Scott says, "and she had all intentions of taking it to her grave."
Scott convinced his mother, a former caterer herself, to write down some of the details.
"And I ran with it," he says. "I worked on it and worked on it, and I took it to her, and I got it to where she said, 'It's close.'"
However, being close to the family recipe doesn't necessarily translate to popularity with the masses.
"Understanding the barbecue competition space, I knew it didn't fit well with the competition circuit," Scott says. "It is rooted with a family recipe with some changes to make it fit that competition space, and in my opinion, that makes it fit what the masses want, so it is something that will do well on the retail front."
Ultimately, the sauce is indeed championship caliber. Roddy Trevino and Team Chupacabra won the 2022 Smokin' on the Rio Grand Reserve Championship using Doxie Guy's Reeci's sauce.
But it isn't Mother's sauce anymore.
"I gave my mother one of the first bottles off the manufacturing line, and she said, 'That's not my barbecue sauce!' We had a little chat about that."
Izzi's Might Go Crazy
Izzi's Might Go Crazy is the first sauce that is all Doxie Guy.
"It is the first one I can truly call my own, and that wasn't rooted in a family recipe," Scott says. "And Izzi Might Go Crazy came from, 'Oh, my gosh, I might be crazy for smashing together east and west.'"
With close ties to "the best barbecue on the planet" and Louisburg, N.C., where his grandfather was a hog farmer, Scott's sauce concoction is a tribute to Eastern Carolina barbecue tradition. Spending much of his life near Hickory spurred a different influence that also emerges in the sauce.
"I am an Eastern N.C. boy at heart, and that vinegar has got my heart," he says. "That's where I started to tinker and play. I came up with something that is an East meets West."
As a result, he produced a sauce that's a vinegar gateway for his Western N.C. friends and family to learn about "the Eastern N.C. thing I always rave about."
The sauce has vinegar, with a little sweetness, "a little red," to temper the power of the vinegar. The result, he says, has always been popular – just use it and the Reeci's sauce as a finishing sauce.
"People want to dump a whole bottle of barbecue sauce into a bowl and then dump in some raw chicken. Don't do that," he says. "You are just pouring money out. It doesn't take much, and both my sauces are not marinades. Use them in the last 15 minutes of the cook or the end of the cook. That's where they shine, and you get the most value and flavor out of them."
Doxie Guy BBQ Corn Pudding Recipe
"My Eastern N.C. roots are deep," Scott says. "I watched my Grandmother make this recipe for years. Every time I go to Louisburg, that was one of my favorite things. I would clear out a casserole dish."
Scott doesn't mind sharing the family recipe with the masses.
"This is something everybody should get to try," he says. "It goes back to walking into Grandmother's kitchen and smelling the corn pudding baking in the oven."
Ingredients

2 cups corn (SILVER QUEEN)

1/2 – 2/3 cup sugar

2 tbsp self-rising flour

3 eggs, beaten

3 tbsp butter

1 cup milk

salt and black pepper (maybe tsp of each – Doxie Guy likes a little extra black pepper!)

Melt butter in a glass casserole 8×8 or 9×9 in the oven while it preheats. When removing from oven, swirl around the dish to coat the bottom and sides.
Mix sugar, flour, salt and pepper.
Add corn and mix.
Add eggs.
Add milk
Mix
Pour melted butter in and mix 1 last time.
Pour into casserole dish and bake at 350 for about 40-45 min. It should firm up and have a nice light brown on the top.