Pork barbecue affinity among North Carolinians is sharply divided. On each side of the state the preparation of the pig is different. So, too, is the vinegar-based barbecue sauce. Within the nuance of "eastern" vinegar-based sauces, there's Lexington BBQ sauce.
From Raleigh down east toward Ayden, Kinston, Wilmington, and Greenville, smoked pork enthusiasts are fiercely loyal to a simple, thin, and tangy solution made of vinegar and pepper.
West of the state's capital city, particularly Carolina BBQ served around Lexington, Winston-Salem, Shelby, and across the Piedmont, the favorite vinegar barbecue sauce – or "dip" – adds varying levels of tomato ketchup and sugar to the watery mixture of vinegar and pepper. This is Lexington BBQ sauce.
Of course, Carolina vinegar barbecue sauce recipes fill the internet. Many drafted through trial and error. Others from the hand of the pitmaster. Some are better than others.
But the Lexington BBQ sauce I swear by comes in the careful cursive handwriting of Memaw, who raised her family in Davidson County, not far from the county seat city of Lexington.
Lexington BBQ Sauce from the Source
While the whole hog barbecue methods of Eastern Carolina have been largely unchanged since the 1800s, different variations emerged in the Piedmont region of the state by World War I. As it did, more and more tomato ketchup – or something akin to it – crept into the sauce.
Mass production of American-style ketchup could be a culprit, and the deep German heritage of the region's population probably had a role, too. A taste for sweet and sour German favorites combined with a preference for cooking fatty pork shoulders – and ultimately, Lexington barbecue was born.
According to barbecue historian John Shelton Reed, the first commercial barbecue restaurants serving Lexington BBQ emerged in Lexington and Salisbury around 1919. Jess Swicegood and the duo of Sid Weaver and George Ridenhour opened Lexington's first two barbecue joints. All direct descendants of German immigrants, they cooked pork shoulder low and slow, chopped it coarsely, and served it up in sandwiches with Lexington BBQ sauces made from vinegar – and tomato ketchup.
Soon others followed the flavor. Business boomed. More barbecue stands sprung up, and so did debate over East vs. West. By the mid-1950s, when Herbert "Sam" Ketcham started his family in north Davidson County, Lexington style reigned supreme in the Piedmont. And as his life partner of 62 years, Velvie "Memaw" Ketcham, managed the family home, she collected all the best local recipes.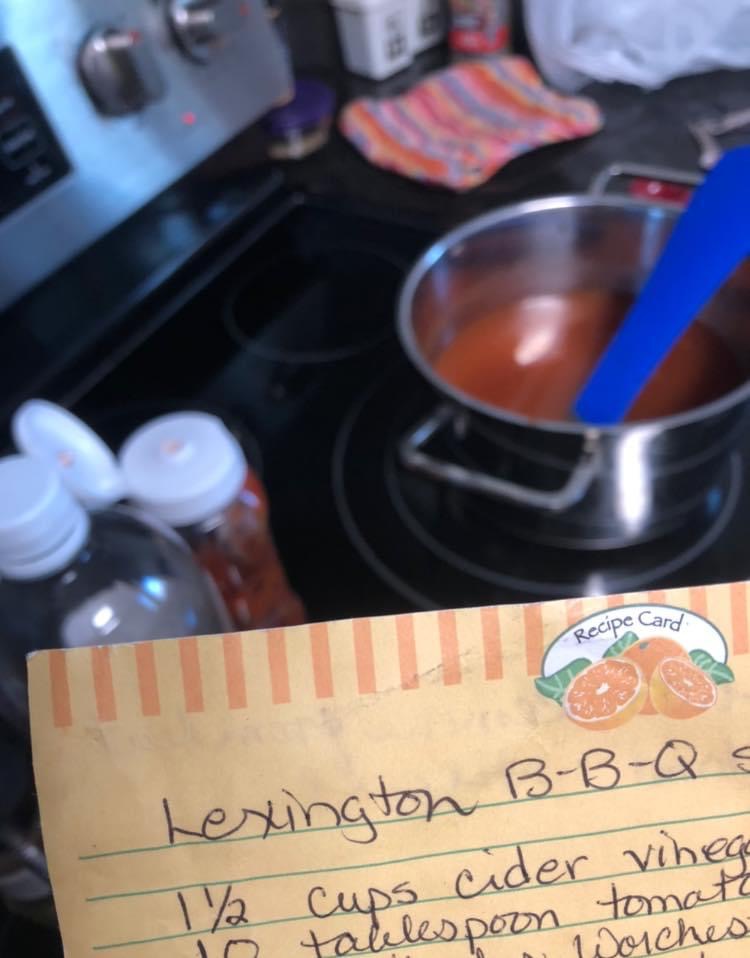 A Gift of Lexington BBQ
When this Alabama boy married a North Carolina girl, our rehearsal dinner guests could choose their preference: ribs from Dreamland in Tuscaloosa or Lexington barbecue … from Lexington. All the best barbecue sides were there, too. So were my wife's grandparents, Sam and Velvie, or Memaw and Papaw as I knew them by that point.
After a few years spent dating their granddaughter, they were family, and so were their favored flavors of Barbecue Center, Lexington Barbecue, or Speedy's. It is only natural that nuptial gifts from the family included plenty of new recipes. And now, more than 15 years later, there are a few cards in that recipe box that have seen more love than the others.
The Lexington BBQ recipes have the most wear, even though I should know the mix by heart at this point.
First and foremost, the Lexington BBQ sauce – but if you are at the barbecue joint, it is called dip.
Ingredients:

1 ½ cups of apple cider vinegar

½ cup water

10 tablespoons of tomato ketchup

1 tablespoon sugar

½ teaspoon cayenne pepper

A few dashes of Worchester Sauce (I like to go heavy-handed here …)

A pinch of crushed hot red pepper flakes (… and here.)

Fresh ground black pepper to taste
Combine the ingredients and bring to a simmer, stirring until the sugar dissolves. Remove from heat and let stand until cool.
Lexington BBQ Slaw Completes the Sandwich
Preparing and smoking the meat low and slow are topics for another blog or episode of The Low & Slow Barbecue Show. You can't have Lexington barbecue without pork shoulder. The slaw is almost as important.
Reliant on the same vinegar-ketchup flavors of the dip, the slaw brings a cool crispness to the sandwich. It is a great, light counter to the meat and bun. Really, it serves to moisten the meat and the bread a little, like a Southern-style lubricant designed to delight as the meat medicine goes down.
Ingredients:

4 cups of shredded or chopped raw cabbage (chopped is best)

¼ cups of sugar

1/3 cup of ketchup

2 tablespoons of white vinegar

1 teaspoon of salt

½ teaspoon of black pepper

Dash of red pepper
Combine ingredients and refrigerate until it is time for barbecue.
This recipe comes courtesy of Memaw, too, but honestly, who has time to finely chop 4 cups of cabbage? In a pinch, I'm always going to make my own meat and sauce, but I have no qualms about turning to Southern Taste red slaw for a quality stand-in.