Do you love barbecue but face limitations that require you to attempt a low and slow cook … indoors? Maybe you live in an apartment with no balcony or patio. Or maybe you don't want to invest time and effort in an outdoor smoker's purchase, set-up, and management. Low slow Korean barbecue is a great way to go.
Like all barbecue adventures, a low slow Korean barbecue cook requires the right ingredients and the right process. There's less reliance on smoke in the equation, but the combination of flavors delivers just as much punch. Plus, when you prepare barbecue indoors, you still get all the great smells – without worrying about your pile of smoldering Hickory or Pecan setting off the smoke alarm.
If you want to produce a great barbecue dish without the worry of an outdoor smoker, be sure to listen to this episode of the Low & Slow Barbecue Show. In it, the Shutdown Fullcast's Ryan Nanni shares his advice for a low slow Korean barbecue dish that he fine-tuned while living in New York City, a place where most homeplaces have tight cooking spaces.
Keep reading for some of the highlights and Ryan's recipe for preparing bo ssam. It's a popular Korean barbecue dish you'll want to consider the next time you have a big crowd coming over to spend time … indoors.
What is low slow Korean barbecue?
Typically, Korean barbecue or KBBQ involves marinated meat cooked over a hot grill, often at the center of the table. Indoor barbecue, right?
All except for the low and slow aspect, marinated meat cooked over gas or charcoal heat sounds a lot like what at-home grillers prepare around the United States every weekend. Of course, people in Korea have been preparing barbecue since between 37 B.C. and 668 A.D., according to Wikipedia. They've had a few centuries to master the method since it was initially called "maekjeok," which translates to "meat over fire."
And as the "Korean Wave" made the cuisine popular in the States in the 1990s and 2000s, one dish served at New York's most popular restaurants found its way into the popular culture: Bo Ssam. Unlike other varieties of "meat over fire," this Korean barbecue dish takes some time to prepare.
What is Bo Ssam?
Bo ssam, or bossam, involves cooked pork wrapped in cabbage with, if desired, other crunchy vegetables and rice. Chef David Chang made his version of the dish popular at Momofuku. While it is different from traditional versions made with thinly sliced, boiled pork, it relies on more of a Carolina low and slow barbecue approach.
Momofuku produces a slow-roasted pork shoulder that's been dry-rubbed and marinated overnight. For Ryan's recipe, he uses a Dutch oven and cooks his low slow Korean barbecue for six hours inside his kitchen oven.
The Dutch oven, he says, is vital as it helps retain moisture – a critical element in every low slow cook. At the same time, the cast iron pot with the top also allows for regular basting of the meats with the juices generated during the cook.
Also, like a good Carolina barbecue, bo ssam can produce a lot of meat. Ryan says you'll want to prepare it when you have a big crowd of people. Or if you want a lot of leftovers.
How to cook and serve low slow Korean barbecue
Listen to the podcast for more details about using the Dutch oven, and this is an important part of the process. That said, as Ryan points out, you don't need the best piece of enameled cast iron on the cookware menu. Le Creuset is nice, but any solid piece of cast iron cookery will suffice. The Lodge 5.5 quart or something like it is good – just make sure your Dutch oven is big enough to hold your meat but small enough to fit in your oven.
Please keep reading for the exact bo ssam recipe, but first, let's talk about how you want to serve your meat.
For Ryan and Momofuku, the preferred serving style includes a crisp bibb lettuce leaf wrapped around a healthy serving of the prepared pulled pork mixed with rice. Much like a Spring roll or a barbecue burrito, this combines soft consistency and savory pork flavors with the bright, crisp crunch of vegetables. Add fresh crunchy veggie favorites like shredded carrots, diced celery, or water chestnuts to create your unique handheld delight. Add Kimchi to make it a proper low, slow Korean barbecue concoction.
You'll also want to be sure and invite a crowd of 6-10 friends to join you. The recipe below produces a lot of meat. Whether you wrap it in lettuce or serve it straight up, it will surely be a hit in your home … or served up a day later at your tailgate party.
Low Slow Korean Barbecue Recipe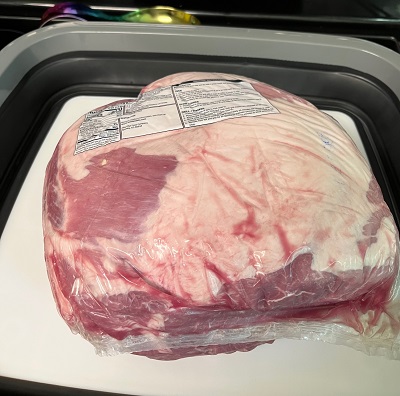 There is no doubt that the Carolinas' low & slow barbecue traditions are best performed outdoors for the at-home pitmaster. Again, not everyone has the ability, the space, or the equipment to prepare a low-and-slow smoked meat entrée outdoors.
However, if you combine the proper seasoning and a dry brine with heat and moisture over an extended period, chances are, the result will melt in your mouth just the same. That's bo ssam.
Here's a version of Chef David Chang's bo ssam recipe that Ryan shared during our podcast. Be sure to listen for his unique take on the recipe – like resting the meat for an hour after cooking BEFORE you add the sauce and broil.
One more critical point Ryan shared: read all the ingredients and directions before you start to cook. The last thing you want to do is get started and realize a marinade you haven't made is immediately needed.
Ingredients

Pork Butt

1 whole bone-in pork butt (8 to 10 pounds)

1 cup white sugar

1 cup plus 1 tablespoon kosher salt

7 tablespoons brown sugar

Ginger-scallion Sauce

2½ cups thinly sliced scallions, both green and white parts

½ cup peeled, minced fresh ginger

¼ cup neutral oil

1½ teaspoons light soy sauce

1 scant teaspoon sherry vinegar

½ teaspoon kosher salt, or to taste

Ssam Sauce

2 tablespoons fermented bean-and-chili paste (ssamjang, available in many Asian markets, and online)

1 tablespoon chili paste (kochujang, available in many Asian markets, and online)

½ cup sherry vinegar

½ cup neutral oil (like grapeseed)

Optional Accompaniments

2 cups plain white rice, cooked

3 heads bibb lettuce, leaves separated, washed, and dried

1 dozen or more fresh oysters (optional) Kimchi (available in many Asian markets, and online)

Bo ssam preparation:

Step 1

Place the pork in a large, shallow bowl. Mix white sugar and 1 cup of salt in another bowl, then rub the mixture on your meat. Wrap it tightly in plastic and put it in the refrigerator to dry brine for at least 6 hours – overnight is even better.

Step 2

When you're ready to cook, heat the oven to 300. Remove pork from the refrigerator, brush any excess sugar mixture off the fat cap, and discard any juices. Place the pork in your Dutch oven (a roasting pan will work, but not as well). Cook at 300 degrees for about 6 hours or until it falls apart , and you can easily twist a fork in the butt. After the first hour, baste hourly with pan juices. When the pork is done, remove the meat from the oven and allow it to rest for an hour.

Step 3

While the meat cooks, make the ginger-scallion sauce. In a large bowl, combine the scallions with the rest of the ingredients. Mix well and taste. Add salt if needed.

Step 4

Make the ssam sauce. In a medium bowl, combine the chili pastes with the vinegar and oil, and mix well.

Step 5

If you are going to add rice and wrap everything in lettuce, prepare those accompaniments now. Put kimchi and ssam, and ginger-scallion sauces into serving bowls.

Step 6

When your accompaniments are prepared, turn the oven to 500. In a small bowl, stir together the remaining tablespoon of salt with the brown sugar. Rub this mixture all over the cooked pork. Place in oven for approximately 10 to 15 minutes, or until a dark caramel crust has developed on the meat. Serve hot, with the accompaniments.

Yields 6-10 servings.