Every day a wave of wheeled machines spills across the blacktops of the Carolinas. In the flood of food trucks, the bravest proprietors put brisket at the top of their barbecue food truck menu. How do you make brisket food truck style?
(Spoiler alert: our BBQ Food Truck episode of Low & Slow Barbecue reveals that the recipe for making brisket food truck style will also yield a good brisket on your backyard smoker.)
Find out more about a brisket food truck and the details of owning and operating a BBQ food truck during my conversation with Richard Byrd from Big Byrd's Smokehouse BBQ.
Here, we'll detail Richard's recipe for success when preparing a low and slow brisket – whether you're on a food truck or the back porch.
Choosing the Right Brisket
Growing up in a military family, "Big Byrd" developed a taste for Texas barbecue early in life. When the North Carolina native started a food truck business three years ago, brisket was an obvious menu choice.
Of course, producing a good brisket is not easy in the best conditions, much less in a food truck. A 10-year veteran of low and slow barbecue, Richard's first step to a successful low and slow brisket: "make sure you get good meat."
Big Byrd sources his food truck brisket through a food supply service, but his tips apply to the butcher shop or the grocery store.
Brisket is usually pretty fatty. Try to get a cut that looks lean. This cuts down on prep time, and you get more bang for your buck, but…
Don't get anything too heavy. Weigh in above 15 pounds, and your chances of a shoe-leather brisket increase.
Find a brisket with limited fat in the 13-15-pound range, and you're ready for the rub.
Brisket Food Truck: Prep and Smoker Set-up
Using a rub recipe that relies on salt, brown sugar, and a spicy kick of cayenne pepper (see the recipe below), Big Byrd's Smokehouse BBQ, applies the spice blend and lets the brisket dry brine overnight. No binder – just rub right on the meat.
The day before Big Byrd rolls to a festival, brewery, or concert venue; he fires up the built-in smoker in his brisket food truck. Like any smoker, the wood-fired smoker requires some time for familiarity. For Richard – that took about six months.
"A wood smoker is different than gas or anything else, and it takes some time to learn how to set it up, get it up to temp and keep the temperature," he says. "Wood has a better flavor, in my opinion, than gas."
Regardless of your smoker choice, the ideal cooking temperature is 225-230 degrees. Once his smoker is pre-heated, Richard loads it with 5-10 briskets, depending on how big a crowd he expects. That meat cooks in the food truck overnight before an event, and when it is time to roll, Big Byrd hits the road, fire burning, and everything.
An enclosed firebox in his trailer protects the heat source, while the secured smoker creates no worry for meat catastrophe mid-cook. A trailer billowing smoke and smells rolling down the road can attract a few followers.
"Always," Richard says. "People have followed us, pulled over, and wanted to know where we were going and what we have with us."
Cook Time for Brisket Food Truck
A 13-15-pound brisket will spend 12-16 hours in the low and slow smoke and heat.
"Halfway through, about 4-6 hours in, I put the brisket in a pan and let it finish in apple juice," Big Byrd explains. "Apple juice, it has flavor, and it pulls the flavor out of the meat and mixes with the rest of the good flavoring. And it helps with the outside of the bark to char up real good."
At 175-180 degrees, your brisket is done and ready for rest. Allow 2-3 hours for a cool-down, and a typically tough-slicing brisket is easier to handle and slice. And when you cut, you should see a solid pink smoke ring and a light, bright meat interior.
Of course, most outdoor low and slow smokers know, weather can be a wild card.
"Weather is terrible," he says. "Perfect weather for smoking is about 65-70 degrees. If it gets too cold, it is harder to keep your smoker up to temp. If it is too hot, the brisket will cook too fast."
But inside the brisket food truck, the climate isn't always "perfect."
"It is miserably hot inside the trailer," Richard says. "We have a 2-ton air conditioner, so we stay cooler than most. With the smoker and fryer, it can definitely overpower the air, but it is better to have an air unit that keeps it at 85 degrees than not have a unit and be working at 100 degrees."
Brisket Ready to Serve from the Food Truck
The perfect plate of brisket? For Big Byrd, that's two or three big slices of brisket, a side of baked beans, and cole slaw.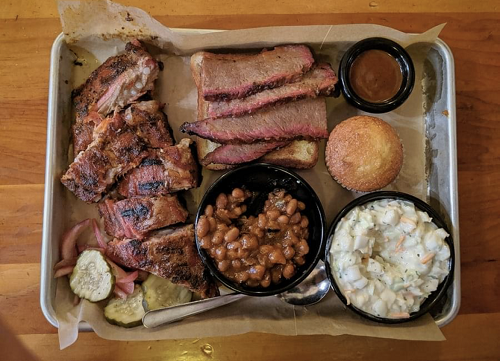 "We offer sauce, but you're just messing it up," he says. "If you have a good product, people will come to see you."
For the brisket food truck, those people are the pleasure that comes after two days spent working to prepare your meat.
"I like being out and seeing all the people. I could've never imagined that many people in this area would come out to food trucks. Like anything, when you get started, you never know where it will go. The amount of people who come out and talk about you with a positive response" has been a surprise.
Just as every brisket isn't going to be perfect, every day on the food truck isn't a walk in the park. There are ups and downs – right now, food prices are an "up" that can bring you "down," Richard admits.
"Some days, you are going to have good days. Some days you are going to have bad days. That's the ups and downs of it," he says, adding it is essential to keep an even personal temperature all the time. "You just have to go back home and relax and know there is another day coming. Today may not be the best, but tomorrow may be."
Texas-style Rub for the Brisket Food Truck
Look for Big Byrd's Smokehouse serving audiences throughout Western North Carolina. He typically brings pulled pork to an event. Sometimes chicken quarters are on the menu. Occasionally ribs make the cut (though in the podcast, ribs are the star of the food truck "fail."
But for Big Byrd, food truck brisket is the crowd pleaser. The process, Richard's prep time, and smoker work are integral to success. So, too is the rub recipe. Here's a Texas-style recipe that will help you produce a brisket that impresses you, too.
Texas Style Brisket Rub Recipe

1/2 cup paprika

1/4 cup kosher salt

1/2 cup brown sugar

1/4 cup cumin

1/4 cup chili powder

1/4 cup fresh cracked black pepper

2 tbsp cayenne pepper
Find out more about Big Byrd's Smokehouse and what it takes to operate a BBQ food truck. Listen to this episode and get the lowdown on low and slow food truck barbecue from Richard Byrd.