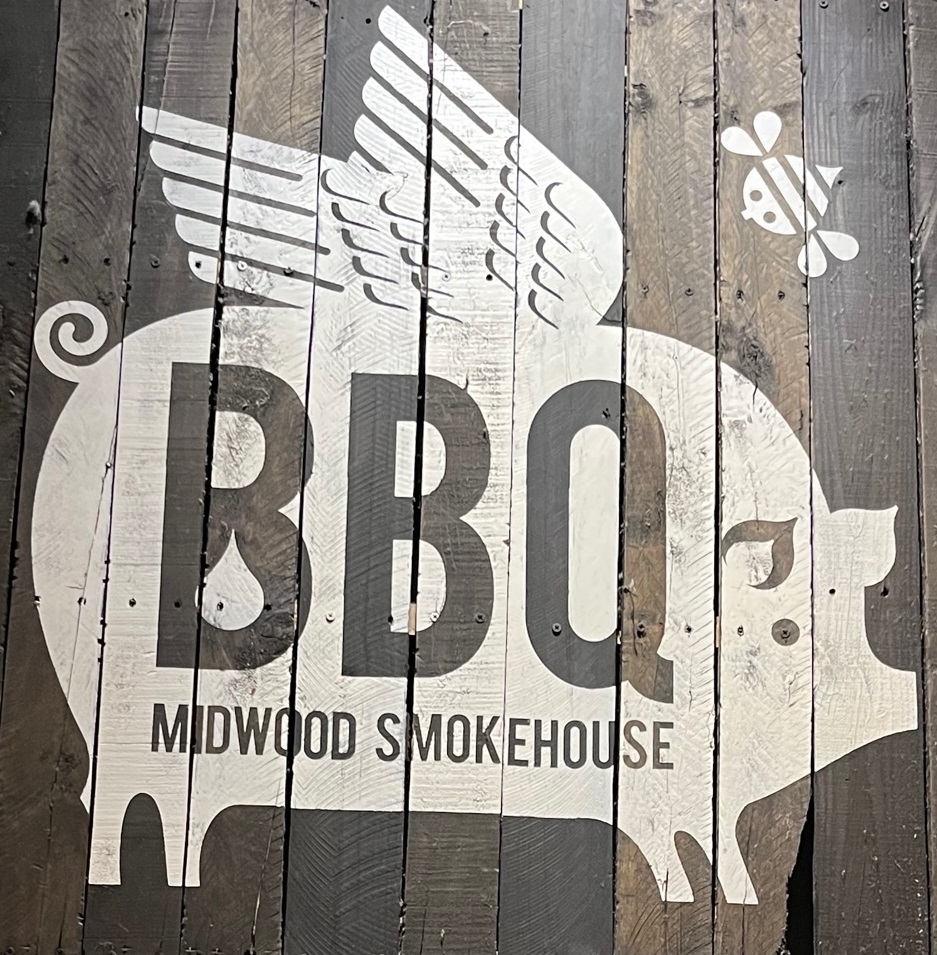 Visit Charlotte, and you'll find a food landscape with everything your palate can imagine. From soul food, hot dog joints, and fried chicken to menus that run a little more high-brow, the Queen City offers a lot. Today, a diverse selection of barbecue delights hungry city-dwellers. At one time, however, the Charlotte barbecue scene was like a food desert compared to other Carolina cities.
Then Midwood Smokehouse arrived in 2011.
With Pitmaster Matt Barry running the barbecue show for FS Food Group, one Midwood Smokehouse restaurant in an eclectic neighborhood east of Uptown Charlotte has grown to six locations across the Carolinas.
Matt joins the Low & Slow Barbecue Show to share the Midwood Smokehouse experience. Listen to this episode and hear about the cola sauce he serves on burnt ends in Plaza Midwood. Of course, we also dig into his barbecue roots.
Find out what fuels the Midwood Smokehouse pitmaster and his restaurants (besides an impressive all-wood Oyler smoker from J&R Manufacturing.) Listen to the podcast for Matt's opinion on the best state for barbecue. Keep reading for the secret of his cola sauce.
What is Midwood Smokehouse?
FS Group restauranteur Frank Scibelli opened Midwood Smokehouse in 2011. Since then, it has expanded beyond Plaza Midwood to six locations in the Carolinas.
The food and the Midwood Smokehouse experience are summed up nicely by words on the napkins wrapped around a fork and knife for every hungry patron:
"The Midwood Smokehouse Team is Full of Barbecue Nerds. Our expert pitmasters stay up all night to tend our Hickory embers. We've got the experience, so there's no gas here just true wood-fired barbecue. And we only use the best local pork, hormone-free chicken and prime beef."
Beyond that, Midwood Smokehouse is a concept restaurant with a menu that offers all the traditional barbecue staples, from brisket to pulled pork and all the favorite Southern sides. More than a barbecue joint, Midwood Smokehouse is a restaurant that serves every hunger – including those thinking about salad, wings, or Tex-Mex tacos.
The restaurant has received national attention and attracts a variety of celebrities visiting North Carolina's largest city. Among them, former president Barack Obama, actor Bill Murray and pop singer Justin Timberlake and others who appreciate good barbecue.
Barbecue Burnt Ends Backstory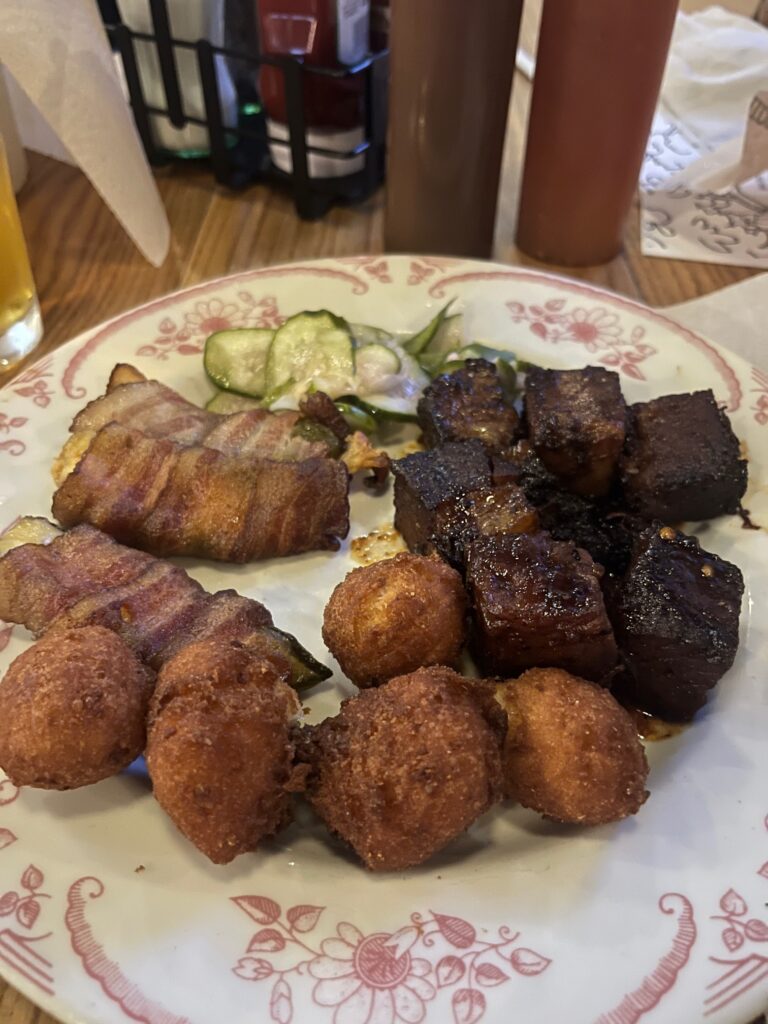 Shortly after Midwood Smokehouse opened, Matt and the Midwood Smokehouse team were looking for ways to stretch every ingredient – especially the meat.
"It's a penny business. Every cent counts," he shares during our conversation. "We're having leftover brisket, and we're trying to find some good outlets for it. We're trying different specials."
Frank Scibelli offered a suggestion.
"As a Carolina boy my entire life, to be honest, in 2011, I had never heard of burnt ends," Matt says, adding a few conversations and a bit of research led to some early attempts. "They were good, but not blow-your-mind good. We wanted to make them blow-your-mind good."
How do you do that?
"We went to Kansas City. We ate barbecue at nine restaurants in 36 hours and only ate burnt ends," he says. "And you know what? We went to nine different restaurants and had burnt ends nine different ways. None were the same."
At Slap's BBQ Kansas City, Barry found a taste that he thought might stand out.
"They had pretty damn good burnt ends, and I thought maybe I can make a sauce like this, but I want to put a twist on it."
A Cola Sauce Twist and Source of Barbecue Pride
In his recipe trials, Matt says he's always enjoyed cooking with beer or soda instead of wine or vinegar.
"So I started messing around with it. We tried Dr. Pepper and a few other things. It turned out that when used cola, it reduced down and the syrup got so thick, it almost acted like molasses."
A few more ingredients and the recipe – as well as a new method for preparing the burnt ends – was ready to hit the menu.
The way we do burnt ends now, we take the leftover brisket and we cut the point off," he says. "The flat, we shave and use for our cheesesteaks, but the point we cut into the burnt ends."
"We re-season them, then we put them on the racks and put them back into the smoker and smoke the hell out of them until they get nice and crispy. It's like a double-char on them."
From there the charred nuggets of joy hit the line for a coat of sauce that just sears the outside with sweet soda goodness.
"I'm very proud of this because we took a product that we had that was good," he says, "but we did a little research and some work and we made it great. This is one of the favorite things we've added to the menu."
Midwood Smokehouse Cola Sauce Recipe
2 Cups Cola soda, reduced by half.

1 ¾ Cups Ketchup.

¼ Cup Worcestershire Sauce.

½ Cup Molasses.

½ Cup Cider Vinegar.

¼ Cup Brown Sugar.

2tsp Granulated Garlic.

2tsp Ground Black Pepper.

2tsp Kosher Salt.

2tsp Paprika.

2tsp Crushed Red Pepper Flakes.

Method

In a small heavy gauge sauce pot over medium high heat, add 2 cups of cola. Bring to a boil and then reduce to a simmer until cola is reduced by half. Remove from heat to let cool. In a small sauce pot over medium heat, add all ingredients including reduced cola and bring to a simmer. Simmer for 20 minutes while stirring occasionally with a whisk. Serve immediately.