Carolina BBQ Festival's second annual installment delivered everything it promised. People together celebrating whole hog barbecue, the Carolinas' rich barbecue traditions, various low and slow cooking styles, and a diverse community.
Sure that black-and-white guiding mission is comprehensive. 2023 checked all those boxes. But let me tell you, the final festival product is so full of flavor that even the most colorful vision statement could never be enough.
Quite simply, the Carolina BBQ festival throbs with the spirit of Southern food culture in 2023.
It is a mix of yesterday and today. A combination of classically trained cookery and daring entrepreneurs alongside families with traditions passed down generations. Whole hog, pulled pork shoulder, Texas brisket, smoaked pastrami … beef birria tacos? Smoked shrimp ceviche? I'm still not 100% sure what a Char Siu Pork Belly Bao Bun is. I do know that it is a wonderfully savory something from Black Powder Smokehouse and Pitmaster Keith Henning.
The Ringmasters of the Carolina BBQ Event
Like the gamut of samples on the festival menu, the pitmasters each bring a unique flavor to the Carolinas' culinary landscape. That's why the Low and Slow Barbecue Show partnered with the Carolina BBQ Festival to create the Pitmasters Series of podcasts. It spotlights the ringmasters of the Carolina BBQ main event.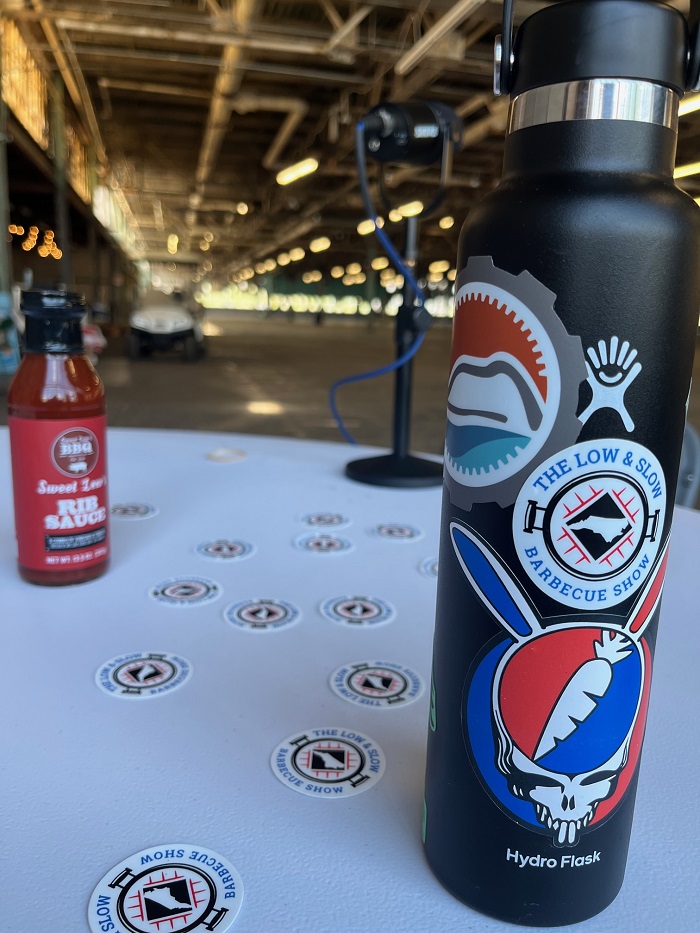 Listen to Episode 1 in the series here. Get a festival overview from its founder Lewis Donald, the Sweet Lew's BBQ pitmaster. The first installment of the Pitmasters Series spotlights Garren Kirkman from Jon G's Barbecue and Matthew Register from Southern Smoke BBQ of NC.
Those are just three of the 14 pitmasters showcased during the 2023 event. For each of the tasting stations, the BBQ pitmasters were likely nearby. They're serving up celebrated plates of goodness, working closely monitored cookers, and enjoying time in their community of barbecue family.
Make no mistake, you can see the work that goes into it all. Still, they welcome conversation. Pick their brain, learn a tip. Watch them work. Yes, they appreciate a compliment on their barbecue showstopper, too, but they genuinely display a humble pride in their craft and a passion for their work.
The layout of the Carolina BBQ Festival at Camp North End creates a perfect environment for patrons to parade among these Carolina pitmasters and enjoy a day of great food.
What to Expect from the Carolina BBQ Festival
First and foremost, there's the food. The samples are truly a one-of-a-kind experience, and you can eat as much as you want of whatever you want. If you're like me, you'll probably want a lot of all of it.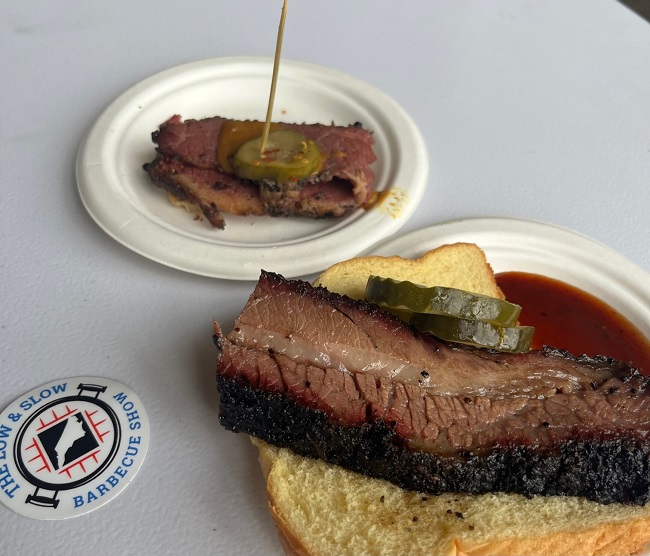 Camp North End encompasses 70 acres of open air, warehouse space, shops, stages … pretty much everything you need for a multi-purpose venue. Throughout the site's history, it has been home to a Ford Motors factory, military warehousing, a missile plant, and Eckerd pharmaceutical production. The property allows for plenty of options, and it's a cool place to wander around.
Around the Boileryard, there's a natural avenue to line up tasting stations alongside BBQ sauce, spice, and equipment vendors. The broadway funnels folks toward live music and the sit-down space you need to enjoy an armload of sample plates. At the opposite end of the party, the Ford building's loading dock lot is a BBQ pitmaster theater in the round with merchandise, giant metal smokers, and cinder-block pits. A choice location for an all-night pig cooking with Tank Jackson's Holy City Hogs.
Complimenting the space, the festival organizers limit ticket sales. The Carolina BBQ Festival has sold out both installments, and it sells enough tickets to keep it bustling with activity throughout the day. You may wait a few minutes for a sample, but you won't find yourself in a thick crowd of humanity preventing conversation space with the pitmaster stars of the BBQ show. Plus, the event is family-friendly, with face painting, other kid-friendly offerings, and the prospect of playing alongside pitmasters' progeny on break from barbecue duties.
The Low and Slow Barbecue Show's BBQ Pitmaster Series
With the coordination help of Carolina BBQ Festival and Lewis Donald, we welcomed eight pitmasters to the Low and Slow Barbecue Show's road studio set-up in the Ford Building. Each pitmaster was generous with their time, conversation, and willingness to share a little slice of what makes their barbecue experience – and the festival – so special.
So from the start of the summer right up to the July 4th Barbecue Blowout and beyond, the Low and Slow Barbecue Show Pitmaster Series will give you a glimpse into the Carolina barbecue business and the people behind it. Episode 1 guests are revealed earlier in the blog. Here's a look at the other pitmasters already participating in the series. Conversations with other pitmasters are in the works.
Be sure to subscribe to the Low and Slow Barbecue Show, and we'll send every podcast directly to you.
What Else You Need to Know about Carolina BBQ Festival
The Carolina BBQ Festival is BBQ for a Cause, and proceeds support various charities serving people in the Charlotte region and throughout the Carolinas.
BBQ For a Cause doesn't stop at ticket proceeds either. Post-festival raffles offered the larger community opportunities to donate in exchange for a chance to win BBQ prizes.
Led by Lewis Donald, Piedmont Culinary Guild's Executive Director Kris Reid, Let's Meet CLT Founder Erin Hunter, and Managing Partner Mindy Grassel, the team at Carolina BBQ festival has established a strong, sustainable annual event. Participating sponsors, not to mention the pitmasters, promise more events in the future. Reserve your calendar around the first weekend in May, the official month for barbecue.
Keep your eye on the Carolina BBQ Festival homepage – and the Low and Slow Barbecue Blog – for details about the 2024 event as soon as they are available.