Super Sunday is the perfect time to rekindle the fire in your favorite chili recipe. After all, when you know how to make a super chili con carne, it's hard to beat a big bowl hearty goodness to warm your belly and fuel your gameday.
That's because when cold winter weather arrives in North Carolina, the last thing most folks want to do is spend time outdoors prepping and watching the smoker. Add a day's worth of festivities around the big game, and there's no doubt that the preferred place is among friends and family. You don't want to be battling the elements to maintain heat, hoping to serve up a low and slow creation perfectly timed amid commercials and live game action.
Sure, some folks go for chicken wings for the super game. Like florists on Valentine's Day, the grocer knows you're coming. Expect a price markup on the seasonal hot commodities. Don't be surprised if the veggie trays see a price spike, too.
But chili? It's made of the everyday staples in the grocer's center aisles and your meat of choice. Plus, the chili master knows the best chili is prepared a day or two before serving. Ready your chili on Super Saturday, and your friends will love to fill their bowls on Super Bowl Sunday.
For more than a decade of pre-Super Bowl Saturdays, the Silly Willard Chili Cook-Off invited our family of friends to assemble their favorite super chili recipe. With competitions for chili, cornbread, and cobbler, we welcomed folks to fill their bellies, support a good cause, and set the foundation for a Super Bowl hangover.
Let's review lessons learned during 10+ years of chili competitions. Keep reading for a tried-and-true recipe from a super chili master, Marcus Miller, who shares other great tips in our Tailgating Time episode of the Low & Slow Barbecue Show.
Putting on a Super Chili Cook-Off
In many ways, coordinating a chili cook-off is like hosting any other party. Pick a day and time, invite people, provide all the typical party accouterments (music and beer), and hope people show up. That said, you'll want a few extra supplies, like ballots, pens, and all the popular chili sides, like shredded cheese and sour cream. Small tasting cups are a good idea for the "judging." A supply of large paper bowls allows folks to enjoy their favorite chili after the judging is done.
For a chili competition party, it helps if you invite folks who know their way around the low and slow cooking traditions. That's probably a big part of why backyard barbecue expert Jeff Osborne's famous "Big Boy" chili took home the championship chili trophy a time or two.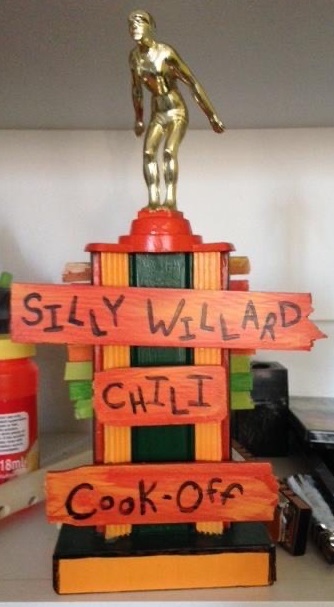 Speaking of trophies, that's always a fun addition, and our competition had one from the start. You can go to the trophy shop and have one specially crafted – but why bother? Chances are your closet (or the thrift store!) has plenty of trophies that can fit the bill. A little glue, a little paint, some popsicle sticks – and wah-la, a championship trophy is born.
For the competition, we found it is best to set a specific time for chili arrival and set-up. Long picnic tables are good, and plenty of power is a must-have. The smart chili chef brings their entry in a crock pot. Since nobody wants to eat cold chili, daisy chains of extension cords and power strips will ensure the competition is hot.
Party for a Purpose
In addition to the power and the people, it is nice to have a purpose outside camaraderie and conversation. We encouraged guests to make a donation toward our chosen cause, the Catawba County Backpacks program. The charity fills backpacks with food for underprivileged children to take home and eat during the weekend. During an event when most people gorged themselves on chili, cornbread, and cobbler, it makes sense to support a charity that provides food for folks that don't always have it.
How do you judge a chili competition?
We debated the voting method nearly every year – especially after the first few installments of the Silly Willard Chili Cook-off. Our method always followed the "People's Choice," which allows everyone to taste and vote for their favorite.
Typically, we assigned each chili an entry number at random. Usually there are enough crock pots of similar make and model to keep the contest anonymous. Sort of. At the specified start time, we passed out ballots and pens, pointed folks at the tasting cups, and told them to dig in. After a couple of hours, depending on the size of your party, collect all the ballots (they will be stained in chili), count up the votes, and declare a winner.
Now I can't defend our voting method as the perfect way. If one contender brings a crowd of his friends, they can easily sway the outcome. That's why compiling an invitation list with a good mix of competitors and unbiased tasters is good. Also, with a "People's Choice" award, you can't always count on people who know what a super chili should taste and look like. We never set ground rules or any parameters outside of "vote for your favorite." While an honest-to-goodness chili usually won, some strange recipes threatened to steal the prize a few times.
How do you Lose a Chili Competition?
It isn't easy to predict what the crowd likes during a chili competition. Still, there are some safe bets for what will not win a chili cook-off.
Vegetarian chili
The spices and the veggies can combine to make a nice dish, but sorry, that's not super chili. Keep in mind that you're trying to win a people's choice award. If this is a chili cook-off, the chances of an all-vegan audience are relatively low. Chili fans, by and large, want meat. Want to win? Give them what they want.
White chili
This is another novelty that looks neat and tastes different. A white chili can differentiate your entry from a table filled with red chilis, many of which tend to taste similar. And there are plenty of really good white chilis in the world. Still, when people think about chili, it is usually brownish-red. Perception is big in chili competitions.
Super spicy chili
Yes, you want to have a little heat in your chili. After all, the idea is for chili to warm you up on a cold day. However, make your chili too spicy, and some people will always steer clear. The Silly Chili Willard Cook-off is not the Electoral College. Your goal as a competitor is to garner the popular vote. That is, you want to get as many ballots as possible. Scare off parts of your audience by making it too spicy – or even owning a reputation for making spicy chili, and you're putting yourself out of contention.
Skyline Chili
I'm not 100% sure what this stuff is. Why is it served with spaghetti, which really belongs with a Bolognese sauce? My limited experience with Skyline was with a loose, low-taste, soupy mess. It's probably great on a hot dog with cheese. For a super chili competition? Not so much.
Now that you know what to avoid in a chili cook-off, let's talk about "good chili" and why it's a sure thing to find on the menu in many places … like Wendy's. And yes, there was at least one occasion where a competitor entered a big crock pot of Wendy's chili. It did not win, but it was good.
Wendy's Dave Thomas: Put Chili on the Menu
When we spoke with Marcus Miller during our Tailgating Time episode, the former restauranteur shared why he decided to create a super chili recipe. After a trip to Chicago when he met Wendy's founder Dave Thomas, he knew chili was a must-have for any restaurant menu.
"Dave told me his view about having chili at Wendy's, and it was real simple," Marcus said. "Every day of the year, there's going to be people come in that want chili. Chili is something you've got to have on your menu."
That started a journey of experimentation, sampling, and serving that ultimately led to the recipe, Marcus shares below.
"I started with the basic idea of his, and each iteration it developed into something more," he said, "up until the point where, quite frankly, I have an award-winning chili, something that goes really well with barbecued pork."
Marcus' restaurant days are behind him, but he still serves his secret chili recipe on gameday, especially when the air gets cold outside the Carolina Panthers' Bank of America Stadium. What sets him apart from other chilis around the tailgate?
"The thing that makes my chili really different is that sweetness with the little kick of heat on the back side. That makes it really special, I think," he explained.
And while Marcus shares his recipe below, he contends that any version created from his directions and ingredients will always be unique to the chili cook.
"Anybody who has ever experienced making chili, it is a process of taste and touch, taste and touch, taste, and touch until you get it just right," he said. "So that is going to be different for everyone."
Hooligan's Grill and Still Chili Recipe
Ingredients

The Chili Spice Mix:

5 tablespoons chili powder
4 tablespoons ground cumin
2 tablespoons garlic powder
½ teaspoon cayenne pepper
1 teaspoon black pepper

(Alternately, take the easy route with a standard 1 box Chili Kit, which usually includes a seasoning packet, cayenne pepper, salt, and flour. Growing up, we took the easy route for speed and convenience, usually relying on Carroll Shelby's chili kit.)

The Chili Ingredients:

1 lb of 90/10 beef
1 lb of HOT Neese's Sausage
3 Sweet Bell Peppers (orange, yellow, and red) – chopped – ½ for chili and ½ for garnish
1 large onion – your choice – chopped
1 bag of frozen corn
1 can black beans
1 can dark red kidney beans
1 can chopped chili peppers
1 can HOT Rotel
1 can diced petite tomatoes
1 large can of tomato sauce
1 ½ tablespoons of olive oil
1 cup water (add more if you like YOUR chili thin)

Bulk Products: Salt, Chili Powder, and Brown Sugar, Shredded Sharp Cheddar Cheese, Sour Cream

Garnishes: Chopped peppers, chopped onions, shredded sharp cheddar cheese, sour cream, guacamole, chips, and sweet cornbread.

Cooking Instructions

On the day before serving …

Dice sweet peppers and onion. Rinse and drain beans. Open all can products. Measure out all ingredients.

In a large sauce pot over medium heat, begin with olive oil and combine half of the sweet peppers and the whole onion. Sautee until the onions are soft.

Add meat products and cook until meat is browned. Add seasoning to your Chili Spice Mix (whether you compiled it yourself or go with the kit. If you go with the chili kit, omit the flour unless you want a thick chili – and don't add it until the end.) Stir in with a cup of water. Add canned tomatoes, Rotel, and can of diced chilies. Cook until it comes to a boil for 2 minutes. Reduce heat to simmer for 15 minutes, stirring regularly.

In a crock pot, add your beans, frozen corn, and your pot of cooking chili. Stir everything together. Turn the crock pot on High, cover it, and cook for 4 hours. Check often and stir. After four hours, reduce heat to medium, and stir in brown sugar (start with ¼ cup). Check regularly. After 2 hours, taste! Add more sugar and chili powder, and salt to get the specific flavor you want for YOUR chili (start with small amounts and dial it in for the perfect chili!).

Once you have the flavor where you want it, put your crock pot on Low and continue cooking for another 2 hours. Your chili is now finished. You can eat some right now with your garnishes, but it is best to warm and serve the next day! Enjoy.