When football season dawns across the United States, tailgate parties fill the schedule from Thursday through Monday night. Gameday menus can be as diverse as the gridiron teams and college colors we support. One sure-fire staple for every get together is the smoked jalapeno poppers.
Quick and easy to make, smoked jalapeno poppers are a crowd favorite. Stuffings can vary and so can the spice level. And the poppers are an easy hand-held, one-bite snack. All this is a recipe for a great side dish for a tailgate party. Listen to our Tailgating Time episode for more tips for a perfect game day party.
For my crowd – which involves a few daring children, I like a smoked jalapeno poppers recipe that is a happy medium. A little bit of pop is good, but you may not want to taint your tongue in jalapeno heat.
So in this Low and Slow Barbecue Blog, let's explore:
What is a smoked jalapeno popper?
What is in a jalapeno popper?
How to smoke jalapeno poppers
How long to smoke jalapeno poppers.
Of course, I share my favorite smoked jalapeno poppers recipe at the end of the blog. First, a quick look at the jalapeno popper and its history.
What is a smoked jalapeno popper?
Have you eaten a stuffed pepper? A jalapeno popper is a jalapeno pepper that has been hollowed of seeds and ribs and stuffed with meat and cheese of choice.
If you're having a tailgate party, slice the pepper in half, fill them with your meat and cheese mixtures and smoke over apple wood for an easy grab and eat. Spices or other ingredients depend on preference. So do the "final touches."
Traditionally, the jalapeno popper is breaded and fried, but I prefer to cook them slow over indirect heat. Wrap jalapeno poppers in bacon and then smoke them or bake a parmesan crust on the top in the oven. Pick a path and you can't go wrong. And poppers are great solo with a ranch or blue cheese dipping sauce.
Smoked or fried poppers are recognized by a variety of names, including atomic buffalo turds, or armadillo eggs – especially if wrapped in bacon.
Where did the jalapeno poppers come from?
Jalapeno poppers are loosely based on a dish from Mexican cuisine called chili relleno. It ordinarily features a poblano pepper filled with meat and cheese and coated with eggs and batter then fried.
The jalapeno popper term, according to Wikipedia, has been around since 1972 in Texas. In 1992, Anchor Food Products applied for and later received a trademark for the term "jalapeno poppers." Since then the brand name has changed ownership a few times before landing with Heinz in 2001.
What is in a smoked jalapeno popper?
Jalapeno peppers, naturally, but not the ribs or any of the seeds. Add browned sausage, cheese and any preferred spices and you'll tame the heat of the pepper quite a bit. That's important for a tailgate, where unsuspecting patrons might not want to melt their face.
As the youngest kid growing up in a neighborhood of teens, I was that unsuspecting patron once. The back deck of Eddie Echols and a huge jar of pickled jalapenos was my introduction. I thought I'd never rinse the heat off my tongue.
Now, I know that heat comes in waves. And levels. Scoville Heat Units (SHU), to be exact, and a jalapeno ranks in the 2,500-8,000 range on the SHU scale. For reference, a poblano pepper is in the 1,000-1,500.
Once you add a sharp cheddar, cream cheese, and sausage to that pepper, it will cool off, no matter how hot the pepper starts out. What about macaroni and cheese? That tames anything. A nice visit to the humidity of the low and slow smoker helps bring down the spice, too.
How to smoke jalapeno poppers
Low and slow.
Beyond that, I like to split my peppers in half, so the poppers become more boatlike. I fill the pepper generously with stuffing, but not too much. An overflow will spill over, but a fill right up to the edge can be fluffy perfection.
Put the pepper boats directly on the grill grates of a smoker heated to temperature. Of course, an evaporator dish is important to keep moisture in the smoke. And that smoke – go mild. I prefer an apple or a cherry for a gentle smoke flavor. Mesquite or even Hickory can overpower your popper quickly.
How long to smoke jalapeno poppers
Slow, in general, but usually it depends on the stuffing and the application. If you're wrapping the popper in bacon, you'll want to kick the heat up toward 300 to get a nice crispy shell. Less wrap and more stuffing allows for a slower cook.
For my smoked jalapeno popper recipe, I like to set up the grill to cook at about 250. At temperature, I smoke the poppers about 50 minutes to get a nice smoke flavor, without drying everything out.
Cooked at this duration, cheese in your stuffing melts and congeals so it is firm on the outside, but gooey and moist in the middle.
Smoked Jalapeno Poppers Recipe
The Internet is filled with recipes, some of them are good. Some of them … meh. This recipe is based on a tried and true foundation, with a few local tweaks. I borrowed it from a friend and long-time low and slow smoker, Randy Abernathy. His variation wows Carolina Panthers fans at his famous tailgate party held every home game in Charlotte.
My version, I go for the sharp cheddar and spicy Neese's Sausage. Jimmy Dean and other varieties are OK, but I prefer to use the Carolina products when possible. And Neese's is a can't miss.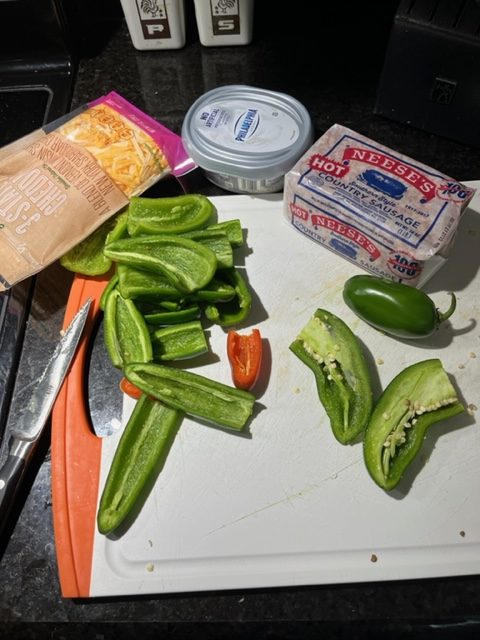 Ingredients:

10-12 whole uncooked, jalapeno peppers

1 8 oz container of cream cheese

1 cup shredded cheddar cheese

1 16 oz package of Neese's HOT sausage

Cut jalapeno peppers in half and remove all the seeds. Brown sausage then combine with shredded cheese and cream cheese. Fill peppers with sausage and cheese mix. Smoke at 250-275 about 50 minutes, sprinkling shredded cheese on each jalapeno popper just before removing from heat.
Backyard Barbecue Expert Offers More Tailgate Tips
Want more ideas that will help you master your tailgate party?
Listen to backyard barbecue expert Jeff Osborne's tips for tailgate success with pulled pork. (Spoiler alert: Jeff sleeps on his meat, but it always turns out great in time for tailgate!) He shares his advice in the Low & Slow Barbecue Show podcast here.