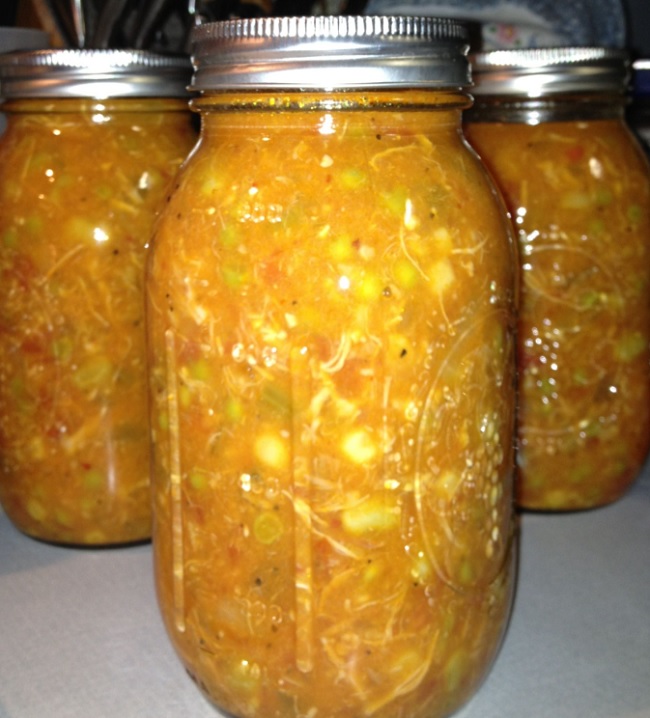 Besides meat and sauce options, a good Carolina barbecue restaurant has a few common elements. Pigs of all shapes, sizes and personalities fill the décor. Paper towels are on the table. And Brunswick stew is on the menu.
Granted, the barbecue of stews appears most often in the Eastern part of the state, as we discussed in the 3 Beers Down episode of The Low & Slow Barbecue Show. Unlike corn sticks, another Eastern N.C. favorite, Brunswick stew has crept westward to be a common menu item for the best Carolina barbecue restaurants.
What is Brunswick stew? Where does Brunswick stew originate? And how do you make Brunswick stew? Keep reading for all the details, as well as Randy Abernethy's recipe for Brunswick stew mentioned during Tailgating Time on the Low & Slow Barbecue Show.
What is Brunswick Stew?
Recipes for Brunswick stew vary from place to place. Generally, Brunswick stew is a tomato-based stew that includes vegetables and meat, often small game meat like squirrel or rabbit. Humorist Roy Blount Jr. isn't far from the mark with "Brunswick stew is what happens when small mammals carrying ears of corn fall into barbecue pits."
America is infested with tree rats but not many people hunt the varmints. Plus, it is hard to rely on a corn-laden squirrel falling out of a tree into your Weber Smokey Mountain when you need it. Chicken is an easy substitute in Brunswick stew.
Naturally, in North Carolina, we like to add smoked pork to the mixture. When your chicken and pork are shredded and added to the pot, it gives your concoction the kind of hearty consistency every good stew needs to stick to your ribs on a cold Carolina day. It's hard to beat a good thick paste-like bowl of stew in the winter or early spring.
The recipe below includes meat and potatoes in the mix, making North Carolina's version of Brunswick stew thicker than the varieties you'll find in Virginia or Georgia. Virginia's stew usually includes chicken, while the Georgia version leans toward a more intense spice. Recipes in North Carolina and Georgia usually feature smoked pork, and good barbecue restaurants in both states feature Brunswick stew as a menu staple.
Where does Brunswick stew originate?
The origin of Brunswick stew is hotly debated.
Georgia, Virginia, and North Carolina all claim to be the birthplace of the stew. Both North Carolina and Virginia have counties called Brunswick. In Glynn County, Georgia, the city of Brunswick is on the state's southeastern coast near Jekyll Island and three other barrier islands, including St. Simons Island.
Both Brunswick County, Virginia, and Brunswick, Georgia, were named in honor of the German Duchy of Brunswick-Luneburg, which was home to the House of Hanover that ruled the British throne at the time. Likewise, when North Carolina's Brunswick County was created from New Hanover and Bladen counties in 1764, it was named after Britain's King George I, Duke of Brunswick.
While it is reasonable to assume that any stew made in a place called "Brunswick" would carry the same name, Georgia's claim might be the strongest. It's hard to argue with a 25-gallon iron cauldron outside the town and atop a concrete plaque that declares "In this pot, the first Brunswick Stew was made on St. Simon Isle July 2, 1898."
Debate a concrete plaque and iron cauldron? No thanks. People in Virginia do. The conflict led to "Stew Wars" with the commonwealth of Virginia landing a legislative victory and a resolution in the mid-1980s. It named Brunswick County, Va., the original home. Georgia countered with their own resolution, and the start of an annual "Brunswick Stewbilee."
North Carolina hasn't waded too far into the fray. Let our neighbors bicker, we've got bigger hogs to cook. Instead, I think my fellow Carolinians are more proud of perfecting the recipe by adding pork cooked low and slow, potatoes, and our own choice of spices.
Brunswick Stew Recipe
Sauce Recipe
Makes about 3 ½ cups which you will set aside and save for later.
In a 2 quart saucepan melt ¼ cup of butter over low heat then add:
1 ¾ cup ketchup
¼ cup yellow mustard
¼ cup white vinegar
Blend the ingredients until smooth, then add:
½ tablespoon chopped garlic
1 teaspoon coarse ground black pepper
½ teaspoon crushed red pepper
1 tablespoon Liquid Smoke
2 tablespoons Worcester sauce
1 tablespoon Tabasco sauce
½ tablespoon fresh lemon juice
Blend until smooth, then add:
Keep stirring and increase the heat to simmer – but not boil – for about 10 minutes.
Stew Recipe
In a large, 2-gallon pot, melt ¼ pound of butter, then add:
3 cups of small diced potatoes.
1 cup of small diced onion
2 14 ½ ounce containers of chicken broth.
1 pound of baked chicken (white and dark)
8-10 ounces of smoked pork
Bring ingredients to a rolling boil, stirring until potatoes are nearly done, then add:
1 8 ½ ounce can of early peas
2 14 ½ ounce can of stewed tomatoes – chop the tomatoes and add the liquid and tomatoes.
Sauce you prepared above
1 16 ounce can of baby lima beans.
¼ cup of Liquid Smoke
1 14 ounce can of creamed corn
Slow simmer for 2 hours.
Yields 1 gallon.